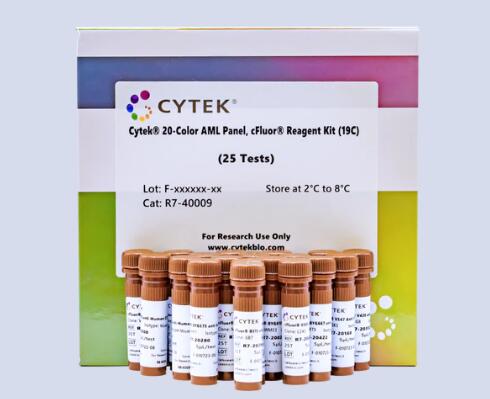 Cytek 20-Color AML Panel, cFluor® Reagent Kit (19C)
货号: R7-40009
Description
The Cytek 20-Color AML Panel consists of the Cytek 20-Color AML Panel, cFluor® Reagent Kit (19C) (P/N R7-40009), and the CD19 Monoclonal Antibody (SJ25C1), Super Bright™ 780, eBioscience™ (P/N 78-0198-42)

The Cytek 20-Color AML Panel allows for AML testing, including identifying and characterizing normal and aberrant cells, immunophenotypic classification and measurable residual disease evaluation in human fresh and frozen bone marrow samples.
The 20-Color AML Panel has been optimized and titrated for analyzing human fresh and frozen bone marrow samples on Cytek's Northern Lights™ or Aurora systems equipped with violet, blue, and red lasers.
Tested Dilution: 5 μL / test
Application: Flow Cytometry
Storage: 2-8°C and protected from Light. (Do not freeze)
Formulation: Phosphate-buffered solution, pH 7.2, containing 0.09% sodium azide and 0.2% BSA.
DATA

A. Mononuclear cells
B. Myeloid cells
Figure 1. Representative data of healthy donor bone marrow samples. A fresh bone marrow sample collected in a heparin tube was stained with the Cytek 20-Color AML panel and analyzed on a 5 laser Aurora system. Data was analyzed using the gating schema and plot layout published by Wood et al1 and SohI et al2. Data shown was sequentially gated with time gate, singlet gate and then followed with lymphocyte, monocyte, myeloid and blast gates on CD45 vs. SSC plot. Cells from lymphocyte, monocyte and blast gates were combined as mononuclear cells.
Figure 2. Representative data of AML frozen bone marrow samples stained with the Cytek 20-Color AML Panel. Data was generated using a cryo-preserved AML bone marrow sample. The layout of the data plots is based on those published by Wood et al1 and Soh et al2.
Figure 3. Empirical lower limit of quantification (LLOQ) determination of the 20-Color AML panel for measurable residual disease (MRD) evaluation. A frozen AML bone marrow sample was spiked into a fresh normal bone marrow sample at different dilutions as shown in the graph and tested in triplicates. Representative data from one replicate is shown. The cancer cells are still detectable at 10-5 dilution.
The panel contains the following single vial reagents.
Table 1: Cytek 20-Color AML Panel composition. ViaDye™️ Red (P/N R7-60008) is available to purchase separately.
RECOMMENDED USAGE
Human fresh and frozen bone marrow samples have been tested to validate the performance of this kit. Please refer to the product web page for the staining protocols, fluorochrome list, experiment template and data acquisition protocol.
Please briefly centrifuge the reagent vial before use.
Use appropriate personal protective equipment per the product safety data sheet when using this product.
FLYER REFERENCES:
Wood, B. L. (2020). Acute myeloid leukemia minimal residual disease detection: The difference from normal approach. Current Protocols in Cytometry, 93, e73. doi: 10.1002/cpcy.73
Soh, K. T., et al. (2022). Development of a 27-color panel for the detection of measurable residual disease in patients diagnosed with acute myeloid leukemia. Cytometry A, 101, 970-983.
Hedley, B. D., et al. (2021). A multicenter study evaluation of the ClearLLab 10C panels. Cytometry B Clin Cytom. 100, 225-234.
TECHNICAL DATA SHEET REFERENCES:
Wirthmueller U, et al. J Exp Med. 175, 1381 (1992)
Smed-Sörensen A, et al. Blood. 111, 5037 (2008)
Wei H Y, et al. Sci Rep. 6, 34310 (2016)
Pugin J, et al. Infect Immun. 66, 1174 (1998)
Wright SD, et al. Science. 249, 1431(1990)
Korman A J, et al. Proc Natl Acad Sci U S A. 79, 6013 (1982)
Shackelford DA, et al. Immunol Rev. 66, 133 (1982)
Walseng E, et al. J Biol Chem. 283, 14717 (2008)
Muench M, et al. Blood 89,1364 (1997)
Arno A, et al. J. Infect. Dis. 180, 56 (1999)
Stewart M, et al. Curr Opin Cell Biol. 7, 690 (1995)
Rabinowich H. J Immunol. 152, 517 (1994)
Aruffo A, et al. EMBO J. 6, 3313 (1987)
Lee DM, et al. Int Immunol. 8, 1195 (1996)
Lund-Johansen F, et al. J Immunol. 148, 3221 (1992)
Lee, H C. Molecular medicine. 12, 317 (2006)
Deng QW, et al. J Biol Chem. 294, 15293 (2019)
Loken MR, et al. Pathol Immunopathol Res. 7, 357 (1988)
Berenson RJ, et al. J Clin Invest. 81, 951 (1988)
Egeland T, et al. Transplant Proc. 25, 1261 (1993)
Favaloro EJ, et al. Dis Markers. 5, 215 (1987)
Nakamura Y, et al. Blood. 83, 1442 (1994)
Freeman SD, et al. Blood. 85, 2005 (1995)
Walter RB, et al. Traffic. 9, 267 (2007)
Goding JW, et al. J Immunol. 127, 1256 (1981)
Reinherz EL, et al. Proc Natl Acad Sci U S A. 77, 1588 (1980)
Giebel LB, et al. Oncogene 7, 2207 (1992)
Furitsu T, et al. J Clin Invest. 92, 1736 (1993)
Van Acker HH, et al. Front Immunol. 8, 892 (2017)
Crossland DL, et al. Oncogene. 37, 3686 (2018)
Seidenfaden R, et al. Neurochem Int. 49, 1 (2006)
Shipp M, et al. Blood. 82, 1052 (1993)
Lu B, et al. J. Exp. Med. 181, 2271 (1995)
Shipp M, et al. Blood 82, 1052 (1993)
Larsen S, et al. J Exp Med. 184, 183 (1996)
Tabbekh M, et al. Oncoimmunology 2, e22841 (2013)
Broughton SE, et al. Cell Rep. 8, 410 (2014)
Sun Q, et al. Blood. 87, 83 (1996)
Macardle PJ, et al. Cell Immunol. 168, 59 (1996)
Yamada T, et al. J Allergy Clin Immunol. 101, 677 (1998)
Hulett M, et al. Adv. Immunol. 57, 1 (1994)
van de Winkel J, et al. Immunol Today. 14, 215 (1993)
Terry LA, et al. Immunology. 64, 331(1990)
Hermiston ML, et al. Annu Rev Immunol. 21, 107 (2003)
Wang K, et al. Exp Hematol Oncol. 1, 36 (2012)
Bradbury LE, et al. J Immunol. 151, 2915 (1993)
For Research Use Only. Not intended for use in diagnostic procedures.
1cFluor® V547, cFluor® B515, cFluor® B548, cFluor® BYG610, cFluor® R685, cFluor® R720 and cFluor® R840 are equivalent to CF®405L, CF®488A, CF®514, PE-CF®596R, CF®660C, CF®700 and APC-CF®790T respectively, manufactured and provided by Biotium, Inc. under an Agreement between Biotium and Cytek (LICENSEE). The manufacture, use, sale, offer for sale, or import of the product is covered by one or more of the patents or pending applications owned or licensed by Biotium. The purchase of this product includes a limited, non-transferable immunity from suit under the foregoing patent claims for using only this amount of product for the purchaser's own internal research. No right under any other patent claim, no right to perform any patented method, and no right to perform commercial services of any kind, including without limitation reporting the results of purchaser's activities for a fee or other commercial consideration, is conveyed expressly, by implication, or by estoppel.
2cFluor® BYG610, cFluor® BYG667, cFluor® BYG710, cFluor® BYG750, and cFluor® BYG781 are tandem dyes made with R-PE. cFluor® B690 is a tandem dye made with PerCP. cFluor® R780 and cFluor® R840 are tandem dyes made with APC. Caution – Tandem dyes may show changes in their emission spectra with prolonged exposure to light or fixatives.
Super Bright™ and eBioscience™ are trademarks of Thermo Fisher Scientific.
"Cytek", "Northern Lights", "Full Spectrum Profiling" and "cFluor" are trademarks or registered trademarks of Cytek Biosciences, Inc. All other service marks, trademarks and tradenames appearing herein are the property of their respective owners.
Shipping
Price calculated at checkout.